How to Read CBD Labels: A Crash Course On Labeling
Sabina King on Jun 20th 2019
So, you've made the choice to purchase CBD. Well done! You can look forward to days of calm, good sleep and all-around wellness. The only thing left to do is choose a product and begin your journey, but if you're a new entrant to the world of CBD, that may be a little intimidating. The industry has grown rapidly, leading to a massive variety of CBD products with confusing ingredients and confusing labels. We'd like to clear that up for you.
Reading CBD Labels | Custom & General Labels
Here's a guide on the different things you might find on a CBD label, and what they mean.
Company Name
The first thing that'll catch your eye on a CBD label is the company name, and is probably the first thing you should research. There are tons of CBD companies out there that have been warned by the FDA for making misleading claims about the concentration of CBD, or the presence of solvents/toxins in the products.
A quick look at the company website will tell you if they have made third-party lab tests of their products available for everyone to view. This is something you should insist on before you make your purchase. Lab testing ensures that you can trust what's on their CBD label before you continue. If the manufacturer doesn't provide those, place that bottle back on the shelf! Nothing else on the CBD product label really matters - because how do we even know it's true?
The website should also highlight how the CBD is extracted. Harmful extraction methods can leave residue on your product and could harm the environment too. CO2 extraction is the cleanest extraction method. Other extraction methods include oil and ethanol.

CBD Content
The most important information on your CBD label is how much CBD is in each product (which will be in mg) along with the net weight of the product. Depending on the type of product, the largest reading on the packaging could either refer to the CBD in the entire package, or the CBD in each serving of the product. If that sounds tricky, we'll break it down:
CBD Drops & Vape Oils
The front of the label will likely list a big number between 100-1000 mg. This is almost always the amount of CBD in the entire bottle. If your bottle of CBD Oil drops/vape oils says 1000 mg and the net weight is 30ml, each ml will contain 33 mg of CBD.
This chart shows the amount of CBD per 1 ml dropper for each strength of Hempure CBD Drops: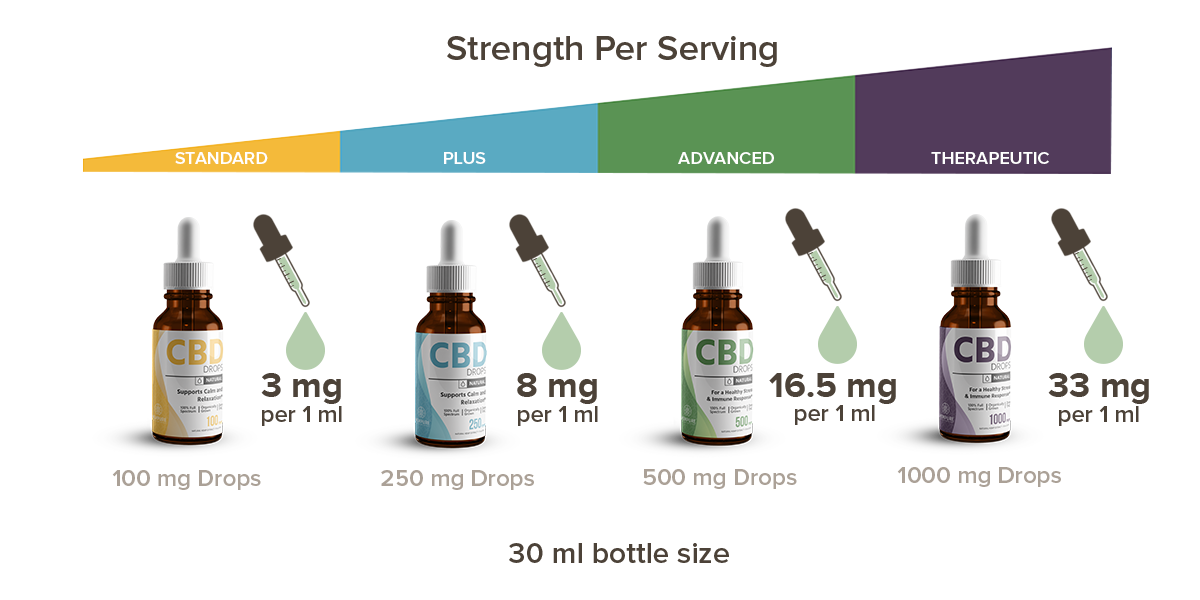 These values are the same for Vape Oils of the same strength. Additionally, Hempure offers two 10 ml bottles of Vape Oil: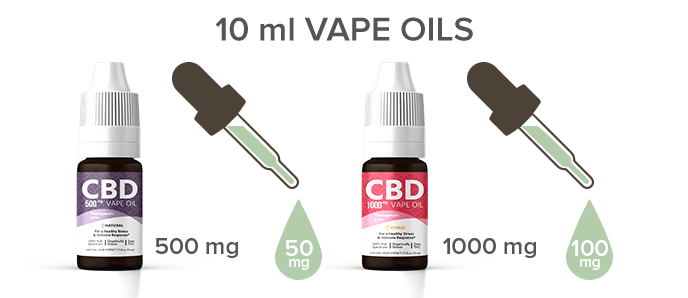 Here you can see that 1 ml from a 500 mg 10 ml bottle offers 50 mg of CBD. Likewise, 1 ml from a 1000 mg 10 ml bottle offers 100 mg of CBD. Also note, the 500 mg in 10 ml bottle is stronger than the 1000 mg in a 30 ml bottle.
CBD Capsules & Gummies
When it comes to CBD capsules or gummies, it can vary from company to company. Some list the amount of CBD per capsule or gummy whereas others list the amount of CBD in the entire bottle or package. Read closely. If the number is 100 mg or higher, it's likely to refer to the strength of the entire package. Hempure packages list the amount of CBD per gummy or capsule. For example: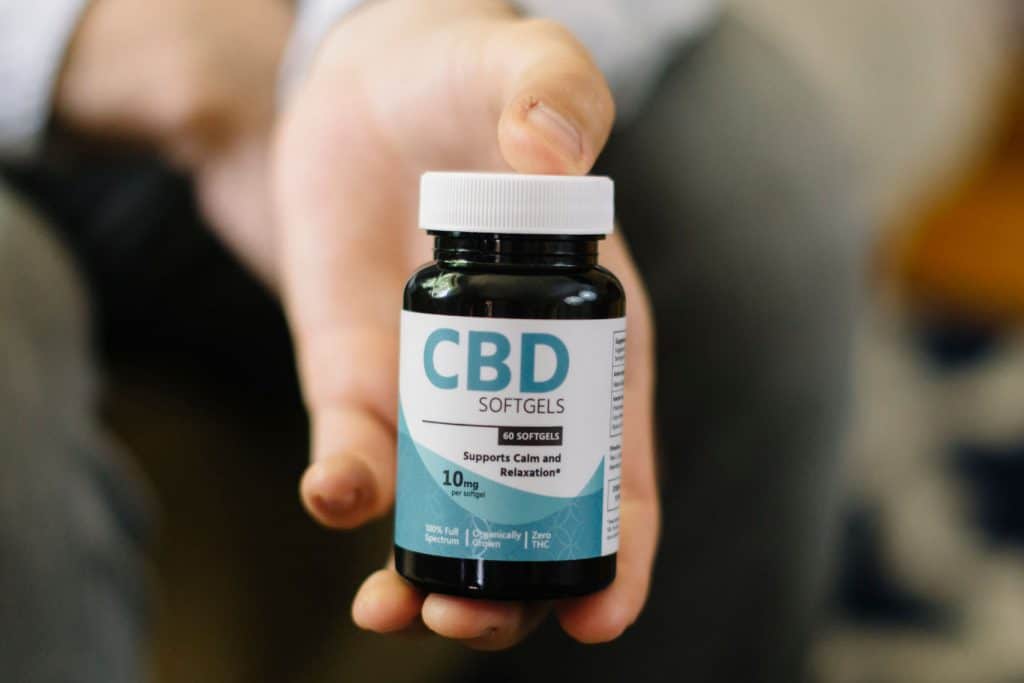 As stated on the front of the bottle, these Hempure Capsules have 10 mg per capsule.
And for Hempure CBD Gummies: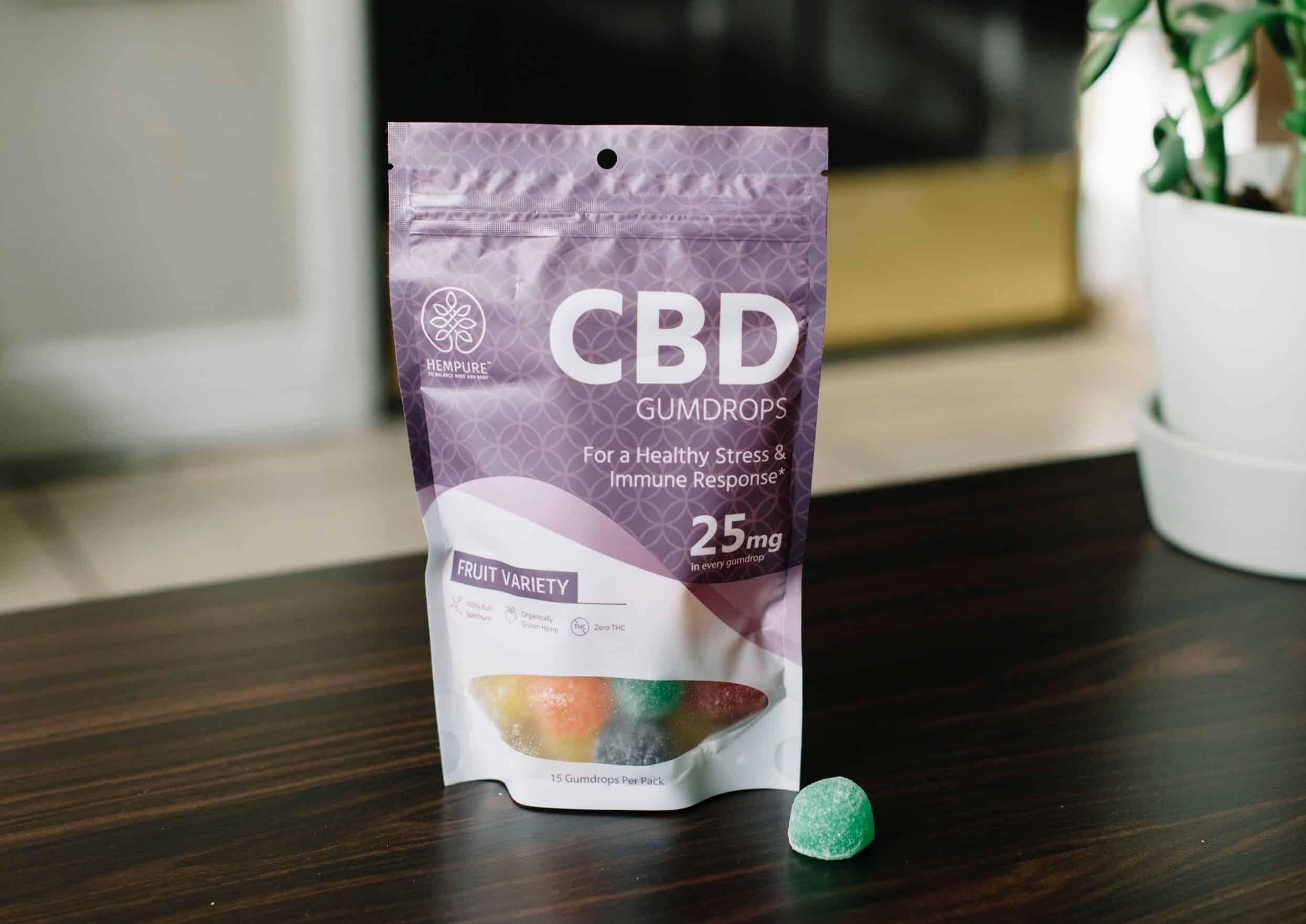 As listed on the bag, each gumdrop has 25 mg CBD.
CBD Balms
The reading on the CBD label of a CBD balm will tell you how much CBD is in the entire product. In order to know the potency of the CBD balm or lotion you are choosing, compare the amount of CBD to the weight of the product.
For example: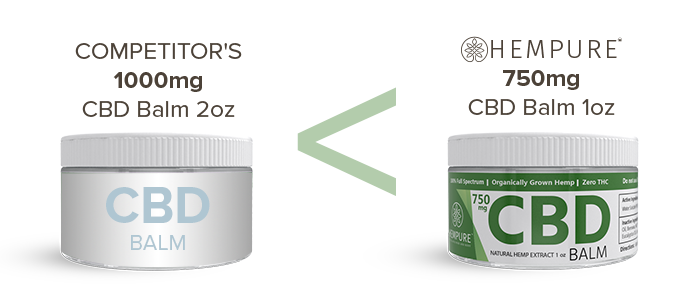 Hempure's 750 mg balm in a 1 oz jar is stronger than a competitor's 1000 mg CBD balm in a 2 oz jar.
Things to Look for on a CBD Product Label | CBD Cheat Sheet
Before you purchase any CBD product, look out for information on CBD labels:
THC Content
THC is the compound in hemp and cannabis that can get you high. A CBD label should always tell you how much THC is in the product, and if there is no THC on a CBD label, it should say that too. A lot of companies that conduct regular drug tests might test for THC as well, and its presence in your product means that you might fail the test. The best way to avoid this is to opt for a zero THC product.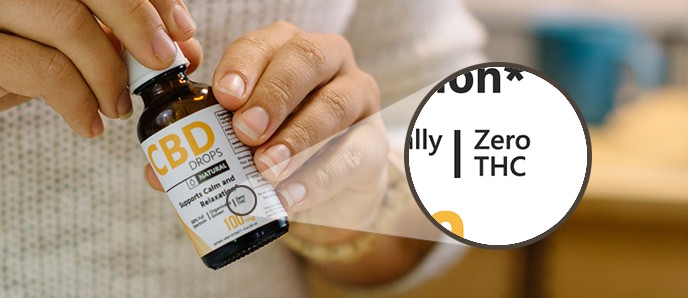 If a CBD product has no THC it will be clearly stated on the bottle as: Zero THC, 0.0% THC or No THC.
Other Compounds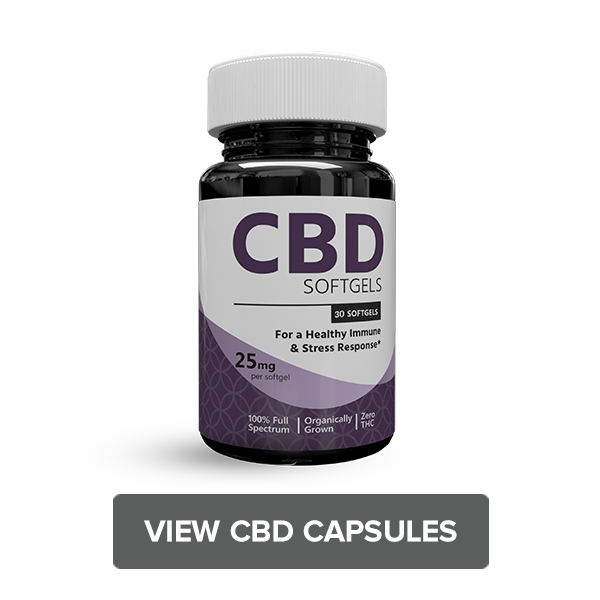 Every CBD label will tell you whether the product is broad-spectrum, full-spectrum, or isolate CBD.
Full-spectrum or whole plant CBD refers to CBD along with other phytocannabinoids, flavonoids and terpenes from the hemp plant. Research suggests that these compounds, when taken together, can increase the absorption of CBD by the body, in something known as the entourage effect. It's also possible to retain all of the compounds in the hemp plant but remove all traces of THC, and several manufacturers do so - this is called broad-spectrum CBD.
CBD isolate refers to a product that has isolated the CBD molecule and does not contain any other compounds.
Emulsification Process
If your CBD is water soluble, the CBD label might also tell you about the company's emulsification process. To increase the absorbability of CBD products, some are made to be a little more 'water-friendly' so that they can enter the bloodstream easier. CBD molecules are hydrophobic (they resist water) so to maximise their absorption into water, they go through a process called emulsification. There are 3 types of emulsification you might read about on a CBD label:
Liposomal:

Liposomes are spherical structures ranging between 100-5000 nanometers, where the nutrients intended to be administered (in this case, CBD) is surrounded by a layer of fat (liposome) that is hydrophobic. It is an effective way to deliver CBD. However, the manufacturing procedure is highly complex and uses high quantities of surfactants.

Nano-emulsion:

This form of CBD refers to droplets that are 25 nanometers in size. This makes it much easier for the CBD to enter your bloodstream, meaning that you'll absorb much more of the final product than you would while using liposomal CBD. The process used for this uses much fewer surfactants, and also allows for natural surfactants to be used.
Read more about the differences between liposomal CBD & nano-emulsified CBD.

Storage Instructions
Some CBD labels may also tell you how best to store your product. Softgels tend to melt in warmer climates, so the company might recommend that they be stored in the refrigerator after opening, while others may need to be kept in a cool, dark place to preserve freshness.
Dosage
Most CBD labels will tell you the recommended dosage, but if you're taking CBD for therapeutic purposes, it's best to speak to your doctor before you decide how much to take. For more information, see the CBD dosage guide.
Reading CBD Labels
CBD labels will also contain information about sweeteners, other ingredients, flavours and oils. There are currently no requirements for CBD labels, which has created an environment wherein manufacturers can mislead consumers. It's best to do a quick internet search of any company website before you buy from them. Remember, as we stated earlier, the validity of a label heavily depends on 3rd party lab testing. If your chosen brand hasn't been tested, there is no way to know if the label is true.
See Hempure's 3rd party lab test results here.
Now that you know everything about CBD labels, go forth and make your purchase!