What's the Strongest CBD Oil - and Does it Matter?
Posted by Hempure Hemp Team on Jun 18th 2019
If you are taking CBD or want to start, you might be searching for the strongest CBD oil. There are a lot of factors that goes into determining the strength of a CBD oil – and though it might come as a surprise, it's not as simple as how much CBD is in the bottle.
In this article, we examine:
How to determine the strength of CBD oil and why the strength matters

Why bioavailability matters when searching for the strongest CBD oil

Deciding if you need the strongest CBD oil or another strength

Figuring out the dosage of CBD that's right for you
Finding the Strongest CBD Oil
In order to find the strongest CBD oil, start by learning the labels. CBD tinctures are almost always labeled based on the total amount of CBD in the bottle rather than the amount of CBD per serving. The reason for this is because a serving size may vary from person to person. You might feel comfortable taking 1/4 of a dropper while someone else may take 1 full dropper (usually 1 ml).
Determining CBD Oil Strength
When you buy a CBD tincture:
Find out the amount of CBD in the bottle. This is usually on the front label.
Determine the size of the bottle.
Confirm that 1 dropper is 1 ml.
Divide the amount of CBD in the bottle by the size of the bottle.
Then you will know the amount of CBD per 1 ml of tincture.
Let's see how this works with Hempure CBD Drops: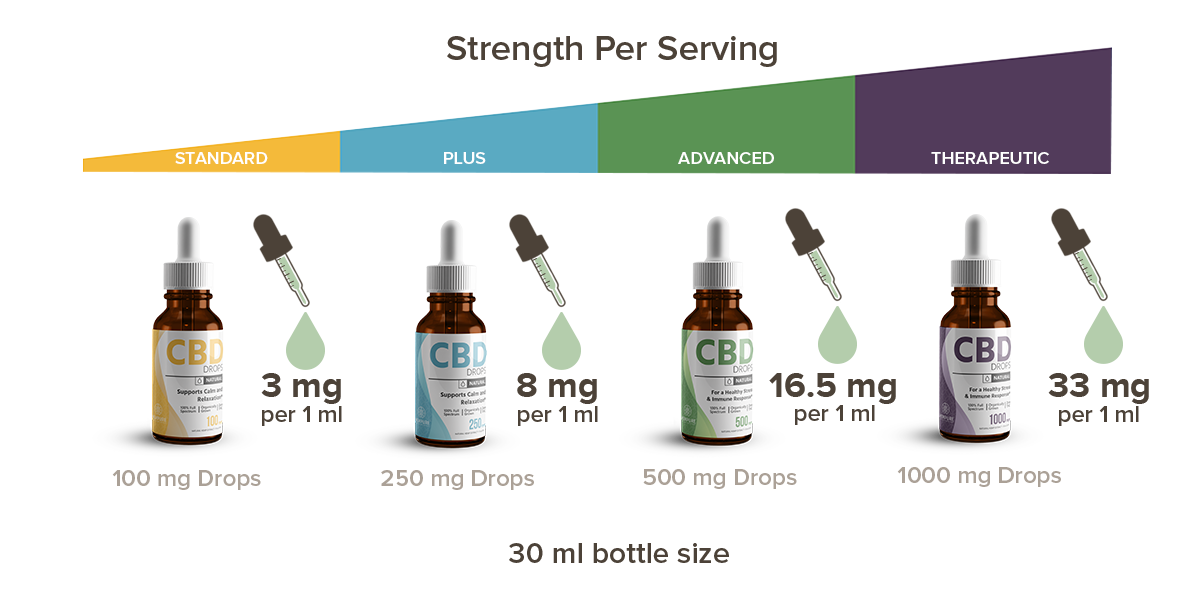 Now, let's take a look at Hempure CBD Vape Oil.
CBD vape oils come in two sizes: 30 ml and 10 ml. Here is a comparison of the 1000 mg in a 30 ml bottle (Therapeutic) to the 1000 mg in a 10 ml bottle (Concentrated Therapeutic):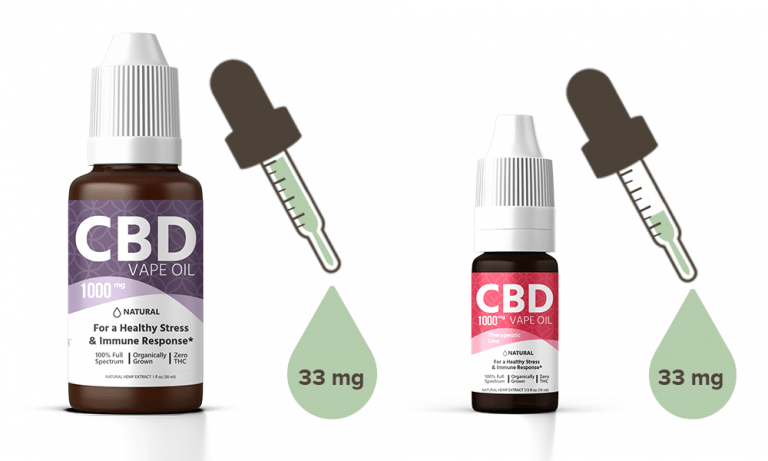 As you can see, 1 ml of 1000 mg in a 30 ml bottle has the same amount of strength as 1/3 ml of 1000 mg in a 10 ml bottle.
Finding the Most Potent CBD Oil
As you can see, finding the highest potency CBD oil is not only about finding the highest number of CBD on the label. Additionally, there are two more factors to consider:
Has it been third party lab tested?
The bioavailability of the CBD
Lab Testing
While a CBD label may say the bottle contains a certain mg of CBD, this may not be true. The FDA has found many brands of CBD on the market contain much less CBD than advertised. In some cases, the "CBD" products didn't contain any CBD at all! That's why it is imperative that any CBD product you consider using has done third party lab testing. This ensures the amount of CBD in the product as well as tests for other things like dangerous metals or chemicals. Third-party tests are the only way to ensure that you are actually buying the strongest CBD oil as the label suggests. All of Hempure products are third-party lab tested to ensure the highest quality.
Bioavailability
The body doesn't uptake all supplements in the same manner because supplements are formulated many different ways. How well your body absorbs a supplement is known as bioavailability. The body has a difficult time absorbing poorly made supplements, and in some cases you may actually only absorb 5-10% of it. The other 90% will pass right through your body without offering it any benefits.
Particle Size
One of the main factors involved in bioavailability is the size of the particles. The smaller the size, the more easily your body absorbs it. Many people believe that liposomal CBD is the smallest form - and therefore the most bioavailable - but this is no longer true. While liposomal CBD is much more bioavailable than others, nano-eumlsified CBD is actually significantly easier for the body to absorb.
How Many Milligrams of CBD Should I Take?
There are a few key rules to consider when determining how many milligrams of CBD to take:
Everyone is different.

What works for your friends or family may not work for you. CBD can impact you differently depending on your diet, environment, genetic makeup, and your general lifestyle.

Start slow and work your way up.

Because each person is different, it is difficult to recommend a universal dosage that will work for everyone. Start with a low dosage and then increase it until you find a sweet that works for you. Some people can take 2 mg of CBD per day and experience tremendous benefits while others may need 100 mg or more to get the relief they seek.1

Record your experiences as you go.

If you start out the first week taking 10 mg of CBD daily, note how you feel and what you experience. Do you notice any difference? After that first week, you could try increasing the dosage amount to 20 mg of CBD per day. Again take note of the difference and write it down. Having a written record will allow you to accurately assess the changes that the CBD is producing and determine the proper dosage for you.
Strongest CBD Oil Options
As you will see, our strongest CBD oils are all packaged in purple. Hempure's most potent CBD is concentrated therapeutic Vape Oil which offers 1000 mg in CBD in 10 ml of vape juice.
Hempure balms are some of the strongest CBD balms on the market. While most CBD balms offer only 50-500 mg CBD per container, Hempure balms come in 750 mg and 1400 mg.
Can You Take Too Much CBD Oil?
If you're taking the strongest CBD oil, then at some point you might wonder if there's such a thing as "too much". Fortunately, the answer seems to be no. There are no reported cases of overdoses. Further, one study discovered that some people were able to comfortably take up to 1500 mg of CBD daily without adverse effects.2
While this may be true, it is important to talk with your doctor if you're using any other medications that could interact with CBD. While CBD is generally harmless, certain medications may cause adverse effects in combination with CBD. Always talk to your doctor before starting any new supplement.
CBD is also not physically addictive. Unlike other substances like heroine, tobacco, or alcohol, CBD will not produce physical withdrawal symptoms if you stop taking it. Also, developing a CBD tolerance which forces you to take more of the supplement is very unlikely. There are even some studies underway to examine if CBD can potentially help those struggling with addiction, particularly to painkillers.
Finding The Highest Potency CBD Oil
Finding the highest potency CBD oil is important when you're getting starting with CBD. Because you want to be able to measure how much you're taking and then increase that amount, you need to able to accurately determine what dosage you're taking. Once you find out how much CBD is in the oil you have purchased, begin increasing the amount of CBD you're taking until you get to an amount that works well for you. Have fun experimenting and determining what amount of CBD is the best for you.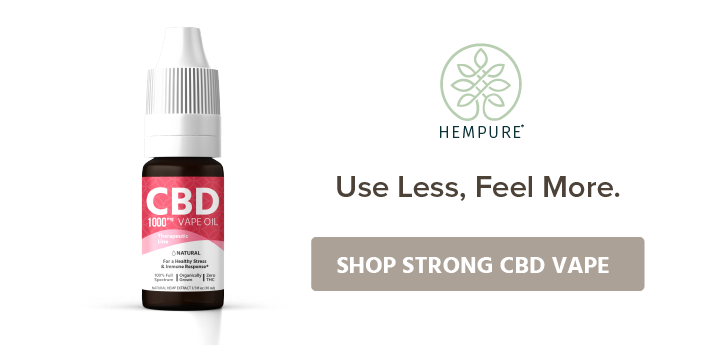 Sources: