How to turn your home into a staycation paradise.
Sabina King on Jun 27th 2020
Okay, so maybe your summer travel plans have been cancelled, but as a lot of us have probably discovered over the last few months, creating happiness, comfort (and maybe even luxury) at home is a worthwhile exercise. You're probably familiar with staycationing, where you enjoy local sights instead of one's in other cities. This list is going to take staycationing up a notch, where you create all the luxury you need, within the walls of your home. We've got the best ideas, products and more for every kind of household.
Food & Drink
Ideas and products for those that love their grub.
The Nutribullet is super popular already, but probably with good reason! As our friends at Cookwared point out, when we think of holidays we often think of fresh juices and mocktails by the pool or sea. The Nutribullet Pro makes sure you get the most nutrition out of your fruit juices while embracing that poolside vibe.
Is anything more luxurious than chocolate? Now imagine it in your tea. It's the perfect mix of decadence and royalty. This delicious drink can be served hot or ice cold and traces its origins back to ancient Mayan and Aztec civilizations. In the absence of an actual vacay, cacao tea also offers some mood and immune boosting properties. Cacao Tea Co. produces tea that is 100% organic, sugar-free, caffeine-free and GMO-free. The company also has a 'cacao karma' program whereby they donate a portion of profits to provide healthy meals to families in impoverished communities in developing countries.
One of the best things about holidaying – and the hardest to recreate back home – is that chilled out, peaceful mental state. Unlike a real vacation, you will likely have some annoying day-to-day responsibilities that can put you off. That's where CBD comes in. As an excellent stress reliever, it can bring the laid-back vibe to your mind and body, where it's needed most. Just one capsule a day will have you feeling calm and rested till bedtime.
Recreate a vacation dinner
There's nothing like an elaborate dinner on vacation, mostly because enjoying a meal you'd never think of making at home is a special kind of joy. But Agustina of the Agus and Allie blog and Better Because podcast suggest actually bringing that spirit to your kitchen at home! Here are their perfectly curated suggestions on what that might look like.
Appetizers
Entrée
Dessert
Brownie Skillet with Ice Cream
Home décor and accessories
Okay, so you don't have access to the hotel spa, but that shouldn't stop you from getting some much-needed R&R. The Dosha Mat is based on acupressure, an ancient Ayurvedic treatment which is almost a mixture of massage, acupuncture and reflexology. The benefits of acupressure range from relieving tension, soreness and pain, deeper relaxation, better sleep, and faster muscle recovery. Dosha mats are luxurious and high quality handmade mats using natural linens. Each mat also contains a removable cushion made 100% natural coconut fibre. With more than 4500 high-quality acupressure points in the shape of lotus flowers, these are bound to have you feeling loose and flexible.
Great Sheets
As Jeremy Harrison of Hustle Life points out, to get the perfect ambience for your room, the bed must be at its best. A good mattress, soft pillows, comforters and sheets should be top priority. And of course, keeping everything reasonably clean helps too! Contrary to popular belief, good sheets or comforters don't need to break the bank. Check out these ones from Amazon to get started.
If you've been forced to cancel travel plans this summer, why not bring the memories of your previous vacations to life – if nothing else, it can be super fun to reminisce! If you aren't into that, how about surrounding yourself with inspirational quotes or mood boards? Fracture creates gorgeous photo décor that allows you to upload your favorite pictures from your devices and get them printed directly onto glass. These will be shipped over to you in eco-friendly packaging and only requires one simple screw for display on a wall or shelf.
Miss the hotel spa? Recreate it at home with CBD balm, and it'll likely give you better results than the best spa massage. CBD is a potent calming agent, and this balm, packed with lavender and eucalyptus essential oils and 750-1400mg of CBD is bound to soothe sore joints and muscles. It also has a beeswax base, making it even more effective at relieving pain. A backrub with one of these will give you the relief and restful sleep you deserve.
You may rightly be wondering – what exactly is a vase wrap? It's one of the most ingenious things you've never heard of! Lucy Grymes is a paper company specializing in these wraps, which are essentially coated paper that can turn any small class or container (think mason jar, stemless wine glass, old can, etc.) into a beautiful vase. Lucy Grymes' wraps are all hand folded by women experiencing homelessness in Washington DC, through a local non-profit. You can beautify your home while knowing that you're supporting some truly honest work!
There's nothing like new aromas to make you feel like you're somewhere completely new. These gorgeous ones from Aristos have hand calligraphy on them with cute messages like 'Detox Mode' and 'Wild Escape'. Once you've used up the candle, you can also repurpose the gorgeous glasses as vases, pots, or brush holders. Also a bonus – the ceramic vessels are handcrafted by women part of a small business in Kansas.
Nothing says, 'don't bother me, I'm on vacation' like a good sleeping mask. This luxurious one from Aristos uses breathable silk and doesn't damage hair or clog skin.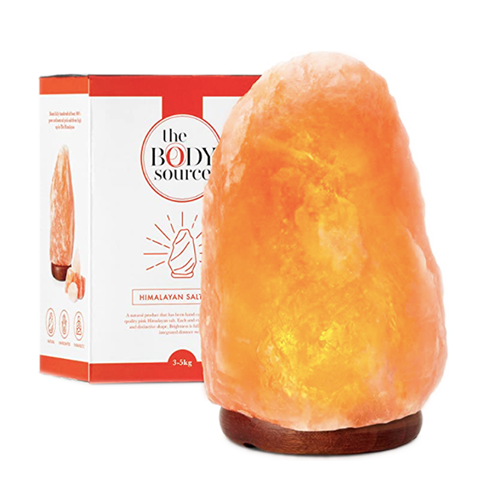 Recommended to us by Aleksandar Hrubenja of lifestyle website Modern Gentlemen, Himalayan Salt Lamps are great mood lifters. "If you turn off your regular lighting and arrange a few Himalayan Salt Lamps around the room, you'll feel like you're in a different place at a luxurious hotel," says Hrubenja. He recommends the ones by The Body Source, which is a pack of 2 with adjustable brightness for more options.
Another great recommendation by Hrubenja is an essential oil diffuser for an instant hotel feel. "One of the tricks that luxurious hotels use to set a relaxing mood for visitors is the use of aromatherapy," he points out. Many diffusers, like the Asakuki Essential Oil Diffuser, also work as humidifiers, making your home comfier than ever.
Have some fun!
Rearrange furniture in your living room
A super useful and fun tip from Hrubenja is rearranging your furniture to make it suddenly feel totally new. "It's an idea I got when I came home from vacation one time, and due to some renovations, the furniture was rearranged to allow a wall to dry. It felt like I got to a whole new place!"
Sometimes the easiest way to make your home feel new is by sleeping in a different spot. The My Cot portable bed by Regalo makes this super easy to do with its light-weight frame that can hold up to 75 pounds. The bed, recommended to us by Jennifer Willy, Editor at ETIAS, also includes a fitted sheet for more comfort. Needless to say, this is a great option if you have kids. Just set these up in the living room, do a movie night, and feel instant vacation vibes.
Sustainable Staycation Activities
We received a whole host of incredible ideas from environment and health writer Balaka Ghosal of The Green Writer. These simple, low- investment activities can turn your home into an adventurous getaway, and are especially great for people with kids.
Craft Projects
Kids can do an inventory of all the things they have and sort them, "not with the goal to organize (ugh!)," Ghosal specifies, "but as a treasure hunt for upcycle items." She suggests googling upcycle projects for ideas that don't require buying craft items. "It's a hugely creative challenge everybody enjoys."
Make the den a real, wild den
Ghosal recommends going all out – "tent on the floor to sleep at night, have wilderness rules like no snacking near the tent, hang snack bags on a string to protect yourselves from bears!"
Stargazing or prowling
Stargazing or spiders-under-flashlight prowls at night in the garden can be great fun. Ghosal recommends parents clear out a zone in the garden beforehand.
Cooking crazy recipes
We often pay for 'experiences' like this on vacation, so why not do it for free at home? Ghosal says these sessions crank out great products for mealtimes. "Children can apply for 'jobs' around the kitchen like it's a restaurant – chef, waiter, receptionist, cleaner-upper – and even do order and delivery calls from parents."
Ghosal also rightly points out that these activities could get potentially overwhelming, so give each one time slots on different days or nights of the week to space them out.
Miss playing tennis at the club? The Slinger Bag is your answer. It's perfect for socially distant tennis (aka, solo tennis). You can roll it around on its wheels and can carry 72 tennis balls, your wallet, keys, towel, bottle AND charge your cellphone. Turn your backyard into a court within minutes.
No… not an actual pool. But this above ground one recommended to us by Nicole Garcia of Mostcraft comes pretty darn close. It's affordable and easy to manage for everyone to enjoy all summer long. Pour yourself some daytime drinks and lounge by your new poolside all day!
Got a backyard? Definitely consider investing in one of these projector screens for a movie night under the stars. Put out some sleeping bags and load up on snacks for a truly away-from-home experience.