11 Women-Led Companies You Should Know About
Sabina King on Oct 29th 2019
Female entrepreneurship has been rising steadily in the last few decades, even though there is a long way to go to bridge the gap between genders. The good news is, every time a female entrepreneur is successful, several more will gain the confidence to take the first step for themselves. Here are some incredible women-led companies and organizations you should know about.
"Biig" is a Silicon Valley-based technology company that is turning your car trunk to your own personal post office box. Founder and CEO, Charlene Consolacion founded the World's First Smart Lockbox for Cars: The BiigVault, transforming the automotive industry by introducing a secured and smart lockbox into vehicles, enabling a wide array of on-demand automotive services such as in-car trunk delivery, grocery delivery, and mobility services directly to your vehicle.
It's no secret that Silicon Valley is a male-dominated entrepreneur ecosystem. To make it in this challenging arena as a female founder and CEO, Consolacion had to have the grit and persistence to navigate it. Silicon Valley is often in the press for the climate surrounding women – inappropriate advances, unequal treatment, and discrimination are common complaints.
Consolacion weathered this environment with a strong personality, unafraid to fight for her rights and protect her people, earning her a fiercely loyal team in the bargain.

Mavens & Moguls is a global branding and marketing services firm started by Paige Arnof-Fenn 18 years ago. This group of seasoned marketing experts can do the work of a marketing department, market research shop, PR firm and ad agency – and they have resources in major metropolitan areas around the country and the world.
We spoke to Paige about her journey and were surprised to learn that this wasn't always the plan. "I always wanted to go work for a large multinational business and be a Fortune 500 CEO. When I was a student I looked at leaders like Meg Whitman & Ursula Burns as my role models. I started my career on Wall Street in the 80s." Things changed after 9/11 when the company she worked for cut their marketing. "All the in-house marketing jobs dried up as it became harder to raise money. Companies wanted to conserve cash, but they still needed marketing help so I hung out a shingle to assist. I never wrote a business plan. I joke that I am the accidental entrepreneur." Her process has not been without struggles, either. "My biggest mistake was not realizing sooner that the people you start with are not always the ones who grow with you. The hardest lesson I learned when I started my company is not getting rid of weak people earlier than I did in the first few years of my business. I spent more time managing them than finding new customers… As soon as I let them go the culture got stronger and the bar higher."
Mailbird is a desktop email client for Windows started by Andrea Loubier. Loubier began to create Mailbird as an alternative to Outlook when she found that some aspects of the popular email client weren't working for her. She believes that email has to be about more than just communication – it should incorporate integration, and provide time-saving features.
Being a woman in tech was obviously a daunting prospect, but with each meeting for fundraising or awareness, Loubier found that her gender mattered less than what she had to offer.
Golden Beacon USA, founded by Laura Marenco, is an organization that helps immigrants and refugees to the US integrate into American society and thrive socially, economically and civically. The organization offers several resources ranging from educational videos focused on specific areas in the US to in-person career coaching and workshops. Their videos cover not only American culture but also community-specific resources such as public transportation and educational options. They also provide resources for immigrants including low-cost/free health, social and legal services. Marenco says she has always been drawn to opportunities that would make a difference in people's lives. "I combined this passion with my lifelong interest in immigration, which stemmed from my father who immigrated to America from Croatia as a child." Marenco was determined to learn as much as she could on the job, which understandably led to some struggles. "Starting a business pulls you in a million different directions, some of which will not occur to you until you are in the thick of it. For example, my plan at first was to complete the main two tasks myself – create the website using an online website builder and teach myself how to use e-learning software in order to create the educational videos." Her initial plan was to launch the website in late 2015, and it finally launched in January 2019. However, the process was ultimately rewarding because of everything she learned. She adds, "the only timeline I had to adhere to was my own."
Recommended to us by Liz Jeneault at Faveable, Sorella is a female-founded apparel company started by Heather Sanders and Brittney Turner in 2012. Sorella's #GirlsTour movement promotes body-positivity in women of all ages. "I created #GirlsTour to empower women and girls to create a wealth mindset and grow," Heather Sanders told Forbes. Sorella also has a #GirlsTour teen entrepreneurship and mentorship program and each month, Sorella works with six ambassadors to help them give back in their hometown communities. Young women nationwide are invited to participate in helping their communities through campaigns centered around positive self-image. "It was very important to me to cultivate women entrepreneurs in the community... especially Black women," Sanders said in her interview with Forbes. "I make it a priority to teach and share every bit of knowledge that I've learned throughout the years. I created #GirlsTour to empower women and girls to create a wealth mindset and grow." Sanders started her business young and faced many obstacles along the way, but she credits her success with being consistent no matter what. "Hard work beats talent," she said. "You have to stay consistent."
Green Kid Crafts is a children's media company founded by Penny Bauder in 2010. It provides kids around the world with convenient and sustainable STEAM (science, technology, engineering, arts, and math) activities. Today, it has become a leader in the subscription industry, with over 1 million packages shipped worldwide. Every month's package is packed with up to 6 activity kits designed to foster a child's creativity while helping to raise the next generation of creative leaders. What began as a boot-strapped company operating out of Bauder's garage is now a multi-million dollar company. Says Bauder, "My company mission to foster the next generation of creative, environmental leaders by engaging kids with the planet in hands-on, creative ways has exposed over one million kids to think about and take a leadership role in sustainability."
Balancing work with parenting hasn't been easy for her, though. "I would not say that I'm successful at work/life balance because I'm not sure it actually exists! Instead of thinking about balance I seek work-life harmony, where my work, family life, and play blend together." Bauder sees career, family and play as integral parts of who she is. "I try to practice work-life harmony by making deliberate choices about what I want in life, on a daily, weekly, monthly and yearly basis. Instead of just letting things happen, I am very intentional about how I spend my work, family, and personal time and this helps me to deal with distraction and guilt."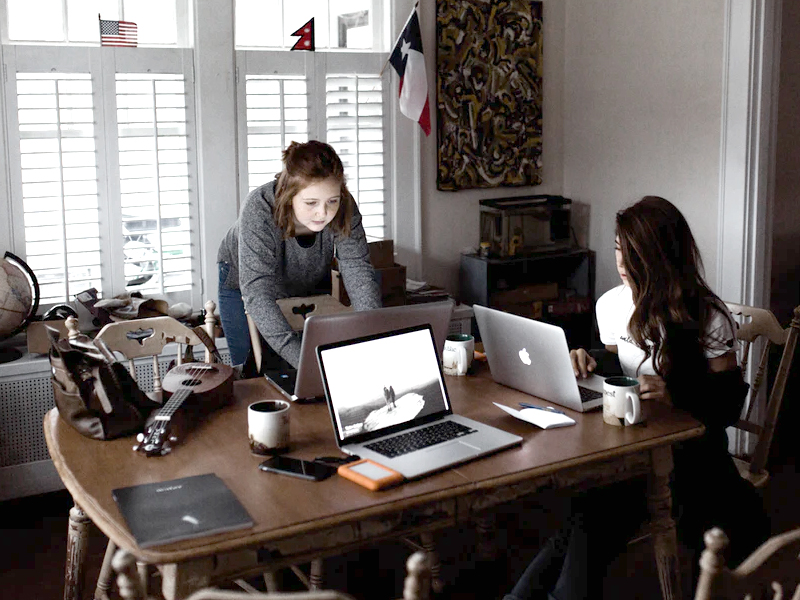 Nudestix is an award-winning cruelty-free, vegan, preservative-free makeup brand founded by Jenny Frankel and co-owned by her two daughters. Started in 2014, Nudestix offers multifunctional and highly affordable makeup products. The goal of Nudestix is to provide a fresh-faced, nude look that is also good for the skin. With that in mind, their products are enriched with antioxidants, moisturizers, and vitamins.
Oregon-based Happily Ever Borrowed was started by Brittany Finkle in 2011. The luxury e-boutique rents bridal accessories to brides for their wedding day. Finkle was inspired to create the brand when she noticed during her sister's wedding that accessories cost almost as much as wedding dresses. "Seeing as you only wear a veil for sometimes just 15 minutes on the big day, I knew there was a better way." The brand offers veils, headpieces, sashes, and jewelry.
HighOh was started by Seri and her sister just a year and a half ago. Coming from a background where finances were tight, Seri happened to find herself in bankruptcy. It was in this stage that she realized she didn't have enough money to purchase sanitary products for her period, which was when she started sewing together bamboo fiber cloths to use. Of course, the capital wasn't easy to come by when she started to expand her business and sell online. "I had to work 4 jobs to fund it and at the same time, I was learning how to market my brand in the online world. Time and sleep are factors that I needed to balance out." HighOh's period starter kits and pads use charcoal and bamboo fiber for high absorbency and greater hygiene.
Birdy Boutique is a baby and children's brand that offers uniquely designed products such as safety car seat ponchos and birthday outfits. The company was started by Barbara Kent and her sister Joanna Serra. Barbara was medically retired from the Army after 16 years of service but knew she wasn't done with a career. Since her husband is still an active-duty soldier, she needed something that could be done remotely and would give her a flexible schedule. "My goal was to generate extra income so that I could travel with my kids,show them amazing places and expose them to different cultures; all thingsthat my family didn't have the resources to do when I was a child." Kent says that growing up in underprivilegedcircumstances may have deprived the sisters of luxuries, but did provide them with the grit and determination that allowed them to move up andaway from that environment.
Currently, the company is run as an e-commerce business selling on multipleonline platforms including its own website, Etsy, eBay, Amazon, Walmart and more.
Bubbles and Butter Artisan Skincare was launched in April 2017 by Nicole Van Lun. She aimed to address how and why millennials take care of their skin. She noticed that millennials value their social lives, families, and careers. At the same time, they want to maintain healthy, glowing skin into their old age. To that end, Bubbles and Butter create bath and body skincare products for multicultural millennial women who want to preserve the strength of their skin while living a busy, sometimes stressful lifestyle.

As a country, we may not be where we need to be in terms of numbers in female entrepreneurship. On the other hand, it's good to know that young women starting out as entrepreneurs in 2019 will have a wide network of role models to look up to. Know any women-led organizations we should know about? Let us know!