​ Can you buy CBD during a shelter-in-place order?
Sabina King on Apr 5th 2020
With the spread of the novel coronavirus (COVID-19) across the United States, several states are taking strict measures to curtail the pandemic, or at least slow its spread. This is also known as flattening the curve. Many states have adopted what is known as a shelter-in-place order. Other states have issued orders to stay at home. In general, only essential businesses are open and running. So what does this mean when it comes to getting CBD. Can you still buy CBD during the pandemic? Here's everything you need to know.
What is a shelter-in-place order?
Sheltering in place means staying at home. The order is often used after emergencies like shootings, chemical spills, etc – but the name is scarier than what the order actually entails. This is possibly why some states have gone with the much milder 'stay-at-home' order, which isn't too different from sheltering in place. The National Governors Association has a regularly updated website with the orders (if any) for each state.
There are certain prohibitions under a shelter-in-place order, for instance: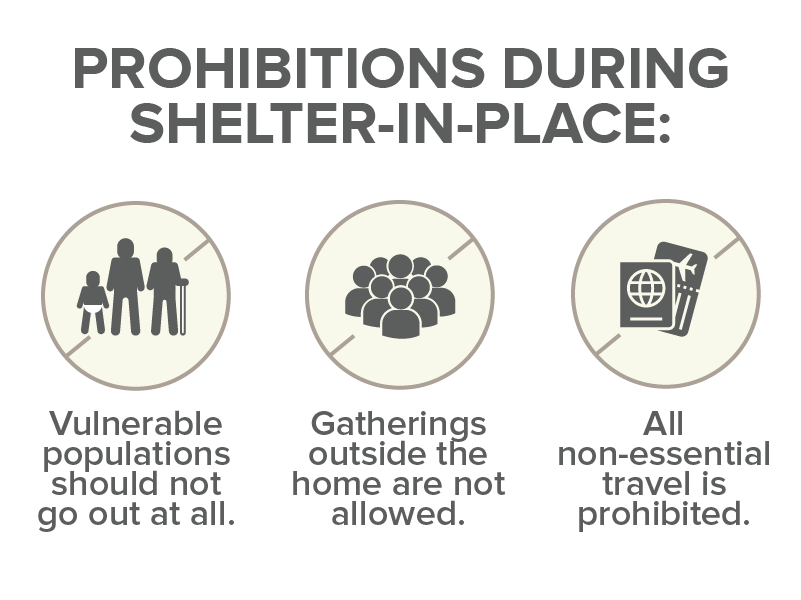 Vulnerable populations, such as the elderly or immunocompromised, shouldn't go out at all.
People cannot gather outside the home. All public spaces such as restaurants, bars, nightclubs must be closed. Restaurants can offer delivery or takeout.
All travel is prohibited unless it is for essential purposes.
What are 'essential purposes' under a shelter-in-place order?
Getting medical supplies
Going to the doctor
Getting groceries
Going to work for the following industries:

Health care
Grocery stores
Banks
News services
Hardware stores
Laundromats
Delivery services
At least 30 states so far have implemented some form of state-wide stay-at-home orders.
What does shelter-in-place mean for CBD businesses?
Several states have deemed cannabis businesses 'essential services' since marijuana can be prescribed. Some states have decided that only dispensaries with medical marijuana licenses can stay open, while recreational marijuana shops have to close. However, just because a dispensary near you is open, doesn't mean you should make the trip.
Six Feet Away
Though most states are limiting the number of people that can be in a store at any given time, and they are regularly disinfecting the premises doesn't mean it's ideal to head over there. Of course, it can be tempting - after all, you want to get out of the house. However, you really have to ask yourself, what's the point, if there are alternatives?
Opt for CBD Delivery
The USPS is considered an essential service. Therefore, you can still order CBD online and have it dropped to your mailbox or doorstep. Whether or not a CBD company can ship their products out will depend on their internal shipping and office logistics. Hempure has good news: we are able to ship CBD products in the midst of the pandemic.
Here are some tips: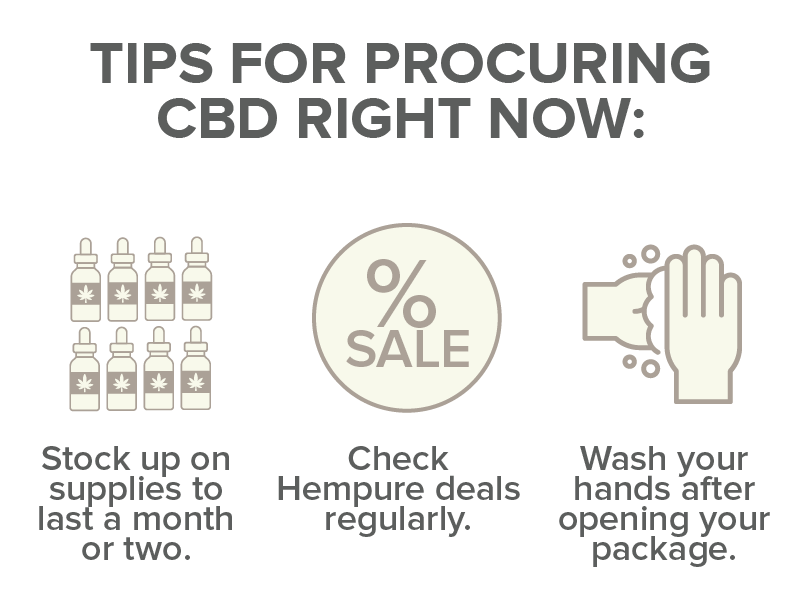 Stock up on products. Instead of making multiple orders over the next six weeks, opt to order everything you need all at once. This helps postal service workers limit their work, and therefore contact with others.
Check out Hempure deals. To help make the first point possible, we'll be offering discounts regularly.
Wash your hands after you open your package - before touching your face! Our shipping protocol is following WHO guidelines. However, it's good practice to wash your hands after touching objects that have been touched by others. This can help slow the spread.

These are surreal times we're living in, and it's no wonder that so many people are looking for some CBD to keep them calm during this period. But don't go out looking for it! Sit back, relax, and let the CBD come to you.