Meet the Women Working Towards Change for Women
Sohini Guha on Jun 19th 2019
The best way to celebrate International Women's Day is to appreciate and better the lives of women. While this certainly applies to the women in our personal networks, one can always try and action change for women everywhere. To that effect, Change For Women is a collective of female entrepreneurs built to empower and celebrate women.
Stronger Women, Better World
That isn't just a catchy phrase, it's the truth! Studies have found that the upliftment of women can be a huge contributing factor in the upliftment of the community they belong to as well.
Education and Employment
Giving girls and women access to education is imperative to break cycles of poverty. Girls that are educated are likelier to stand up for themselves in the face of abuse, to marry and have children later (and therefore have fewer children) and educate their own children. In developing countries, overpopulation is a pressing issue. Having fewer children enables parents to give better care and opportunity to each child. Further, having fewer children is also advantageous on an environmental scale. Girls that are educated are less likely to die in childbirth as well. When it comes to employment, even though there is a pay gap that exists, women tend to reinvest more of their earnings into the family than men do.
Safety and Equality
It is an undeniable fact that discrimination and violence disproportionately target women in most societies. Statistics of the rates of violence against women are alarming. As many as 1 in 3 women have experienced a form of sexual violence in their life. 100+ countries have no legal recourse against domestic violence.
Women's Health/Family Planning
Access to reproductive education and family planning is imperative. This simple practice can reduce the number of children a woman has, delay the age at which she has her first child, and teach her how to space out pregnancies. More than 10% of all worldwide births every year can be attributed to girls aged 15-19. Pregnancies that are too closely spaced together, or too early/too late can impact maternal health and the health of the child. Studies show that every dollar spent on family planning services can save more than $7.00 of Medicaid expenditures that would be used on pregnancy, delivery, and early childhood care.
The Collective
The Change for Women Collective is a team of 5 vibrant members. These women have taken a pledge to use their respective businesses as a tool to give back to organizations working towards a better future for women. We spoke to a few of them about what got them interested in championing women's causes, and how their businesses work towards Change for Women.
What makes the Change for Women collective special?
There is power in a community. When like-minded people join forces, our impact multiplies exponentially. Together, we're able to encourage and influence others to join in and do their part. Partnering with other women-owned businesses helps build up women everywhere.
Why did you want to give back?
My personal ultimate goal is to see people thrive, in their health, relationships and financial lives. When we feel into our own power, we treat ourselves and others in a generous, respectful manner. Hempure's GIFT IT FORWARD program empowers our customers to give it forward – as they choose greater health for themselves, they choose great health for all. We are ALL Changemakers.
How does your business align with the mission of Change for Women?
Our missions are both about empowerment and giving to and beyond yourself. Hempure products work on the mind and body to achieve a state of balance in your physical and emotional life. That, in itself, has compounding effects in the outer world. This applies to your relationships, the decisions you make and how you engage in the world. When people feel good, they are more kind, respectful and generous. This creates a new world - the new 'normal' because it's the natural way to be.
Which products of yours are your favorites and why?
I say that Hempure products are like a 'blanket for your nervous system'. In this over-stimulated world, our nervous system is on constant alert. CBD can help balance it out to what is more natural. My favorites:
The CBD Drops - for their delicious taste and quick calming ability. I keep them in my car for a drop or two microdose when I drive.
Hempure CBD Balm - a must for after workouts to ease the soreness. I also use this occasionally as a nightly face cream. I wake up with clear, refreshed skin!
Hempure CBD Capsules - they are nano-emulsified for ultimate absorption into the body and have the longest lasting effects. One capsule will help me focus for most of the day.
What products make the biggest difference in your customer's life and how?
Hempure products work on the ROOT of health, at a very foundational level. What that means is that it affects the entire body-mind system. If we tend to the roots, the entire tree thrives and it's the same in the human body. There has been a lot of talk about the microbiome as the root of health, but what gets overlooked is the master system of the body that innervates and governs all the systems, including the microbiome. The Endocannabinoid system is the root of our health and we can tend to it to create more vibrancy in our lives.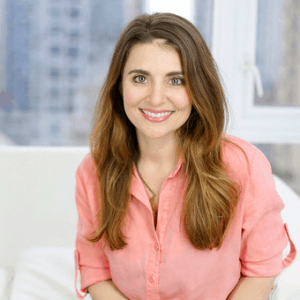 What makes the Change for Women collective special for you?
As long as we live in a world where women are still fighting for equality, we must stand together so our collective voices can be heard. It's incredible to see individual brands embracing philanthropy and moving the ball forward, and I believe the next phase of progress is one where we're able to unite our voices and resources to make real, lasting change in our world.
The Change for Women collective is special to me because it represents how much stronger we are together than we are apart. Not only are we able to celebrate and empower the lives of women and girls all over the world, but we are able to join hands with other thought leaders who put doing good in the world at the forefront of business.
Why did you want to give back?
We believe that empowering women is the clearest path to influencing real change on a global scale. When women thrive, the world thrives. The idea for the Change for Women collective started when we learned that thousands of health programs throughout the world would lose out on billions of dollars in essential funding due to shifting U.S. policies.
We've always proudly supported causes working to improve maternal health and healthy births in developing countries, but we were shaken to the core at the level of oppression and discrimination affecting the lives of hundreds of millions of women and girls throughout the world. And with the lingering effects of gender inequality right here in the U.S. still as prevalent as ever, we knew that enough was enough. We knew it was time to take an even bigger stand. The Change for Women collective is our platform to use our voice and help change the status quo for women everywhere.
How does your business align with the mission of Change for Women?
Hyperbiotics' commitment to ensuring all women have access to quality maternal healthcare has always been a core pillar of the company's mission and values. Because a healthy microbiome begins at birth, issues involving maternal health, safe childbirth, and breastfeeding are dear to my heart. I'm so very passionate about educating and empowering moms to make the best choices for the physical and emotional health of their children.
The impact this could have on future generations is staggering, and I'd love to see gut and microbial health become an integral part of prenatal and postnatal care for moms and babies. Through Change for Women, we support the riveting work of our local and global non-profit partners who focus on women's health and family planning, childbirth and maternal health, breastfeeding and parental support, and overall equality for women.
Which products of yours are your favorites and why?
A couple of our formulas that stay on my favorites list are PRO-15 and PRO-Dental. They are wonderful complements to each other for providing overall microbial support. I also love to use our Organic Prebiotic Powder in my smoothies and when I'm experimenting with new recipes. It truly is the easiest way to ensure I'm getting enough prebiotic fiber in my diet!
What products make the biggest difference in your customers; lives and how?
Microbial health is leading the way forward when it comes to modern wellness. It is my belief that the importance of microbial health is an idea whose time has finally come. Understanding the power of probiotics has given me a different worldview for myself and my family—it has allowed me to makes choices based on living in harmony with my microbes and I want to help others feel empowered to make these choices as well. At Hyperbiotics, we love making a difference by developing premium probiotic formulas and inspiring and empowering individuals on their journey toward greater health.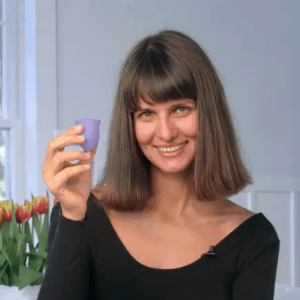 What makes the Change for Women collective special for you?
We live in times of global marginalization, uncertainty, and division. It is essential for women to support other women and to help them grow and have a better life. Change for Women does just that. It is a collective of successful women getting together to make a difference for other women in the world.
Why did you want to give back?
More than ever, I feel connected to the struggle and challenges experienced by other women in the world - we have the information and the examples of what it is like to be deprived of basic supplies, sense of safety, social support and understanding. I want to do my part and help improve as many lives as possible.
How does your business align with the mission of Change for Women?
At Lena Cup, our main goal is to offer a better way of living to our customers. We aim to improve the lives of the people who use our product, one menstrual cup at a time. Offering a better, healthier and more convenient solution to managing one's monthly period provides an unprecedented opportunity for an improved and more socially involved life. I see it as my responsibility to contribute to the lives of other people through the use of our product.
Which products of yours are your favorites and why?
Lena Cup specializes in making menstrual cups and this is our main focus as a brand. We offer two styles of comfort - classic and sensitive models, in small and large sizes. We're the only menstrual cup brand to address the needs of people with more sensitive anatomies or for those first painful period days when you need a gentler cup. I love that we can offer these options to our customers.
How You Can Help
Change starts in the smallest ways. Every time you shop from a business that is a part of the Change for Women Collective, you become a changemaker. Your purchase will go towards improving the status of women that need it. If you are an entrepreneur that would like to be a part of the collective, reach out to them here.