A Comprehensive Guide on CBD Oil for Cats
Sabina King on Jun 20th 2019
Hempure is starting a conversation: CBD oil for cats
.
Since CBD oil gained massive popularity with humans over the last few years, it was only a matter of time before the focus shifted. Now many people are wondering, "If it can help me, can CBD work for my cat or dog?"
CBD for Humans
CBD-derived products work to improve the overall well-being of people. Because CBD interacts with the endocannabinoid system, and that works with all eleven systems of the body, the benefits offered by CBD vary from person to person. However, most studies done so far focus on how CBD can help humans when it comes to reducing pain.
CBD Oil for Cats: The Basics
Since cats have the same endocannabinoid system that humans do, the effect presumably would be the same. In this article, we give you necessary information related to giving your cat CBD oil.
Research on CBD Oil for Cats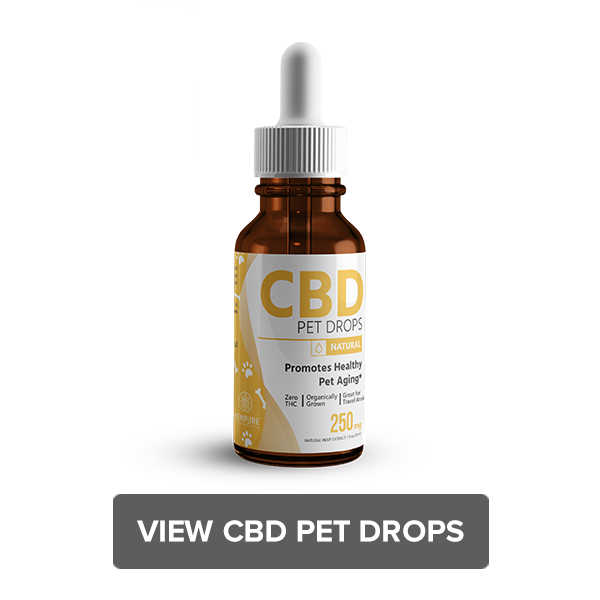 Here's a statement by Dr. Daniel Inman, a veterinarian at Burlington Emergency Veterinary Specialists in Williston, Vermont:
"There are not many classical medical studies that explore the effects of CBD oil in cats. Holistic veterinarians are using it [for cats] for a variety of [reasons]."
Dr. Inman's statement is entirely accurate. There haven't been specific studies on the effect CBD has on cats. Whatever limited research has been done in regard to animals and CBD has primarily been about dogs and CBD. However, the overwhelming anecdotal evidence from pet owners is worth discussing, particularly in lieu of lack of research.
Hopefully, the scientific community will soon start conducting research on the effects of CBD oil on cats. It's safe to assume that more detailed and specific studies on the subject will take place in the coming years, particularly since the 2018 Farm Bill passed.
Mostly anecdotal or extrapolated evidence suggests that CBD oil supports cats with discomfort. These anecdotes are individual reports given by cat owners all over the globe. The number of testimonials increases every passing day.
Should I use
CBD oil for cats
?
Hemp-derived CBD, which is generally used for beneficial purposes, doesn't have any psychoactive effects on cats or other users. Furthermore, CBD oil is not toxic.
If a pet owner wants to increase the overall well-being and comfort of the cat, CBD oil is a prudent choice. CBD oil in the proper dosage is effective and beneficial.
Why Give a Cat CBD Oil
There are a number of reasons why people choose to use CBD oil with their cats. Those include, but are not limited to:
Alleviating travel worry (car, train or plane)

Reduce stress of a new person, pet or environment

To prepare for a scary thunderstorm

Help make the aging process smoother

Reduce overall body ache or pain
These are just a few of the most popular reasons that cat owners give a cat CBD oil. There are many other reasons why you might want your cat to try it.
CBD for Cats:
Dosage
In the words of Dr. Gary Richter, a holistic veterinarian, owner and medical director of Montclair Veterinary Hospital and Holistic Veterinary Care in Oakland, California:
"I think the bigger issue, from a medical perspective, is making sure that animals receive appropriate doses. This means that the CBD oil has the effect you want it to have and that you're not accidentally overdosing."
The dosage of CBD for cats is crucial. Getting it right is something most cat owners want to figure out when they start giving their cat CBD.
Since the dosage itself depends on more than one factor, the appropriate dose might require some experimentation on the part of the pet owner. Some veterinarians suggest starting with the smallest dose so that the cat can adjust to it.
Hempure CBD created a free, online calculator to help cat owners to figure out the right dosage. The input method is quite simple, and you'll have the proper dose for your pet in no time. Using the calculator is the easiest way for you to find out the dosage according to the weight of your cat.
How do I administer CBD oil to a cat?
The most practical approach is dropping the CBD oil directly into the pet's mouth. However, if that's too difficult, dropping a few drops on your cat's daily food is an alternative.
According to the statements of holistic veterinarians, CBD oil should be administered once to twice a day. That depends on the condition, the size of the pet and the response they have on the CBD.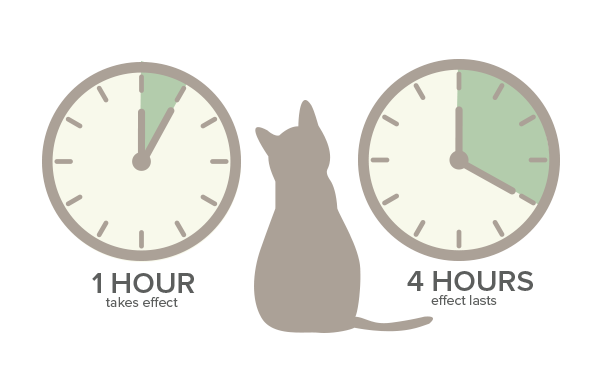 If you are giving your cat CBD oil to help with a specific situation such as thunder or travel, give it 1-2 hours before you expect the stressful event to occur. The effects of the CBD oil should work for 4-5 hours.
Some animals don't have as many receptors as others, which is why, even when using the CBD pet calculator, some experimentation with dosage might be required. If the cat doesn't show any signs after one to two hours, it's possible the dosage is too low. You might want to give your cat an additional 25% of the initial dosage.
Potential Side Effects
The most common side effects that cats experience at the beginning are gastrointestinal upset and some sedation. Both of them are avoidable with the right dosage.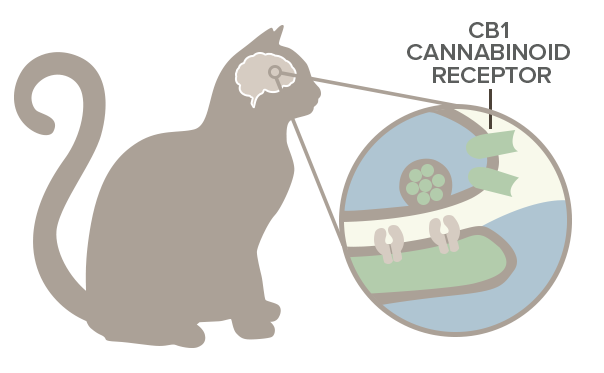 It's important to keep in mind that cannabinoid receptors are found all over the cat's body. Including but not limited to the brain, the nervous system and the immune system.
Try
CBD cat treats
If your cat doesn't like orally ingesting CBD oil for cats or you don't like putting it on their food, try CBD cat treats. CBD cat treats come in beef flavor which many cats love.
Hempure Pet Chews are made from high quality organically grown, hemp-derived CBD. They leave the pets balanced and supported.
A note of importance, by Dr. Gary Richter:
"Pet owners that are looking to give their animals CBD oil should do their due diligence before purchasing anything online. The marketplace is very much a 'buyer beware' environment, and people should be sure that the product they're buying has been laboratory tested for both content, as well as contaminants like bacteria, fungus, and heavy metals."
Hempure's CBD products feature broad-spectrum profiles of synergistic compounds that contain no solvents, no heavy metals, and no pesticides.
The best approach is to work with a veterinarian, preferably a professional who has experience with administering CBD to cats and dogs. You can find additional information on the subject here - CBD Pet Guide.