Nourish your pet's systems with daily CBD support
Veterinarian formulated canine soft chews providing CO2 extracted, full-spectrum profiles of synergistic compounds that will leave your pets balanced and supported. These hemp extract edibles nourish your pet's bodily systems, providing many levels of relief.*
0.0% THC
HOW CBD PET CHEWS WILL HELP YOU
Bring ease to stressful situations:

Thunderstorms, moving, traveling, and introducing a new pet or family can all be stressful for a dog or cat. Giving your pet CBD chews one hour prior to the anticipated event can help alleviate stress for your pet.

Easy dosing:

Each Hempure Pet Chew has 2 mg CBD. This allows you to give your dog or cat an accurate dose every time.

Beef flavor, grain-free:

Designed to be easy on the stomach, Hempure Pet Chews are grain-free and appealing to your dog or cat's taste buds.

Calming without altering your pet's adorable personality:

You love your pet for who they are. CBD helps your pet feel good without making them drowsy, dull, or indifferent. Let your pet's loveable personality shine!
CBD PET CHEWS 100 mg
Use our Pet Calculator to determine the correct dosage of CBD for your dog or cat.
Consistency is the key
Take CBD consistently for best results. It may take a week of daily use before you see a noticeable difference.
STANDARD - WHY GIVE YOUR PET CBD CHEWS?
CBD pet chews are a great way to introduce CBD into your pet's diet. Each pet chew has 2 mg of full-spectrum CBD per chew. Give them as a treat or your or place a few chews in their food.
CBD pet chews are the perfect supplement to help balance out your pet and make them more agreeable and relaxed.
CBD strength chart
HOW TO USE CBD PET CHEWS?
Suggested Serving:
0.05 mg x Pet's Weight (lbs)
CBD Pets Dosing Guide
Pet dosage is based on weight.
Hempure CBD pet chews contain balanced, natural, beef flavored chews that you can add to your pet's bowl of food or give as a treat. Delicious and easy for your dog or cat to digest.
CBD PET CHEWS INGREDIENTS
Phytocannabinoid-Rich Hemp Oil
Water
Dried brewer's yeast
Glycerin
Gum arabic
Sodium alginate
Beef liver powder
Natural bacon flavor
Flaxseed oil
Microcrystalline cellulose
Organic sweet potato powder
Sunflower lecithin (non-GMO)
Citrus pectin
Vitamin E
Sodium propionate
Calcium sulfate dehydrate
Natural mixed tocopherols
(natural preservative)
Dextrin
Completely pure, organically-grown and GMO-free.
CBD production process
FarmingGrown in the USA, we use proprietary high cannabidiol CBD cultivar. Our plants are organically farmed and not genetically modified.
HarvestWe make use of the full plant so that in addition to CBD, you reap the benefits of a range of cannabinoids, terpenes, and vitamins.
ExtractionWe use a safe, state-of-the-art, chemical-free CO2 extraction process in a GMP certified facility to deliver the purest Full-Spectrum CBD.
THE BEST PRODUCT COMES FROM THE
MOST WHOLESOME INGREDIENTS
A broad-spectrum formula with a blend of cannabinoids, terpenes, and flavonoids to give your pet's endocannabinoid system the most holistic support.
Delicious, all-natural beef and bacon flavorings that your pet will love. With flaxseed oil and vitamin E for anti-inflammatory and antioxidant effects.
Organically grown ingredients. Non-GMO formulations.
Hempure Order Processing
Orders are shipped within 24-48 hours Monday-Friday.
Please keep in mind that if you place an order after 12pm, your order may not go out until the next day.
Orders over $99 and delivered to the US will receive free standard shipping. To receive your shipment sooner, select a faster shipping option at the cart.
Free shipping does not apply to international orders, Priority, or Express shipping options.
Shipping Fees

USA
All orders over $99 ship free within the US
$6 Regular shipping
$12 Priority (2-3 days)
$35 Express (order needs to be placed by 11am PST)
International
(coming soon)
$15 Regular Shipping (no tracking)
$30 Priority (5-8 days)
$45 Express (4-5 days)
(orders needs to be placed by 11 am PST)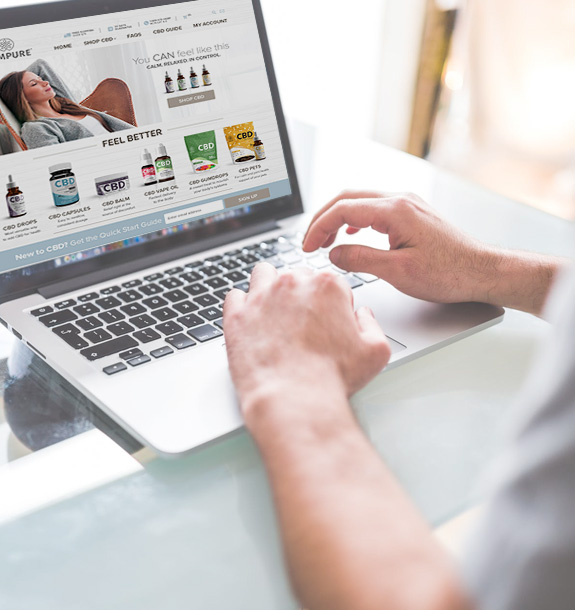 30 DAY GUARANTEE
All unopened Hempure products ordered online may be returned within 30 days of receiving the shipment. We will issue a refund promptly upon receiving unopened, returned products.
Please get in touch with us via the contact form.
If you have purchased Hempure products at a retail outlet, please return it at the place of purchase. Please keep in mind, every retailer has its own return policies.

WARRANTY & RETURNS
We will make sure you are 100% satisfied with your Hempure products. If we make an error with your order, we will correct it right away. If the shipping courier damages your shipment, please file a claim with the carrier and or contact your local office.
Then send us an email help@hempurecbd.com with the claim receipt, and we will then send you a replacement for anything that was damaged.

RETURNS PROCEDURE
if you need to return an item, follow these instructions:
Email us at help@hempurecbd.com
Returns are approved by our Customer Service Team.
Note – Returns received without approval will not be issued a refund or credit.