Intended for those looking for therapeutic results
A perfectly balanced dose of CO2 extracted, organically-grown CBD oil that can be added to vaporizers. This whole plant, full-spectrum phytocomplex of hemp extract gently nourishes your body to achieve balance and homeostasis.*
0.0% THC
An ideal choice for those seeking daily phytocompound support with simple ingestion.
HOW CBD VAPE 500 MG/10 ML WILL HELP YOU
High dosage for drastic effect:

CBD Vape 500 mg/10 mL is ideal for those in need of crucial support to the endocannabinoid system.

Fast-acting relief:

Use Hempure CBD Vape 500 mg/ 10 mL in your vaporizer as you would any other e-liquid and feel the effects almost immediately.

Pure ingredients with natural flavor:

Hempure CBD Vape 500 mg10/ ml is clear and without the 'hempy' taste. Flavored with natural essential oils for a clean, refreshing mouth feel. Available in Natural, Cinnamon, Citrus and Peppermint Flavors.

Keto-friendly, zero sugar:

Using only healthy MCT oil, Hempure CBD Vape Oils will not spike blood sugar. It's also Gluten-free and Vegan. Here's to your health!
CBD VAPE OIL 500 mg/10 ml
Start with a 3-4 puffs and wait to feel effects.
Vape more as needed.
Consistency is the key
Take CBD consistently for best results. It may take a week of daily use before you see a noticeable difference.
THERAPEUTIC - WHY USE 500 MG 10 MLCBD VAPE OIL?
Therapeutic – Why use 500mg Therapeutic CBD vape Oil?
Each bottle of Hempure Therapeutic CBD vape oil offers 500 mg of CBD in only 10 ml of liquid.
If you already vape or are interested in starting, 500 mg CBD vape oil is a high, impactful dose with zero THC and zero nicotine.
Hempure Therapeutic Vape oil offers fast benefits and noticeable effects that support a healthy immune and stress response.
CBD strength chart
HOW TO USE CBD VAPE OIL
500 MG 10 ML?
Suggested Serving:
1 ml (50 mg CBD)
There is 500 mg of full-spectrum CBD in each 10 ml bottle of Hempure Therapeutic CBD Vape oil.
Direct use: Fill your vape exclusively with CBD vape oil on its own.
Add to e-liquid: add a few drops of Hempure CBD Vape Oil into your vape with your favorite e-liquid.
CBD DROPS 500 MG 10 ML INGREDIENTS
500 mg Phytocannabinoid-Rich CBD Dominant Hemp Oil
Essential Oils
Peppermint flavor: Peppermint Essential Oil
Lemon: Lemon Essential Oil
Cinnamon: Cinnamon Essential Oil
Citrus: Orange and Lemon Essential Oil
MCT oil
Completely pure, organically-grown, vegan,
GMO-free, and additive-free.
CBD production process
FarmingGrown in the USA, we use proprietary high cannabidiol CBD cultivar. Our plants are organically farmed and not genetically modified.
HarvestWe make use of the full plant so that in addition to CBD, you reap the benefits of a range of cannabinoids, terpenes, and vitamins.
ExtractionWe use a safe, state-of-the-art, chemical-free CO2 extraction process in a GMP certified facility to deliver the purest Full-Spectrum CBD.
lab results
CBD Vape Oil 500mg 10ml
Lab Tested for Purity and Excellence
Third-party lab testing procedures ensure quality and purity with every Hempure CBD product.
Feel confident that our products are non-psychoactive, containing 0.0% THC.
Compound potency
Max CBD
5.00 wt%
48.41 mg/ml
Max THC
0.0wt%
0.00 mg/ml
heavy metal analysis*
Metal
Results
All
Ingestion
Status
Arsenic
0.0
200
1500
PASS
Mercury
0.0
100
1500
PASS
microbiological contaminants*
Analysis
Results
Limits
Status
Total Aerobic Bacterial Count
<100
100,000
PASS
Total Coliform Bacterial Count
<100
1,000
PASS
Total Bile Tolerant Gram Negative Count
<100
1,000
PASS
Total Yeast & Mold
<100
10,000
PASS
Units: CFU/g
*Tests indicated zero presence or levels 10-1000 times lower than the maximum established limits.
THE BEST PRODUCT COMES FROM THE
MOST WHOLESOME INGREDIENTS
A broad-spectrum formula with a blend of cannabinoids, terpenes, and flavonoids to give your endocannabinoid system the most holistic support.
An MCT oil base provides the smoothest vaping experience while boosting your body's absorption of CBD. Only the purest essential oils are used to flavor Hempure vape oils, lending a delicious and refreshing mouthfeel.
Fast-acting and highly bioavailable formulas that are non-GMO, additive-free and vegan.
Hempure Order Processing
Orders are shipped within 24-48 hours Monday-Friday.
Please keep in mind that if you place an order after 12pm, your order may not go out until the next day.
Orders over $99 and delivered to the US will receive free standard shipping. To receive your shipment sooner, select a faster shipping option at the cart.
Free shipping does not apply to international orders, Priority, or Express shipping options.
Shipping Fees

USA
All orders over $99 ship free within the US
$6 Regular shipping
$12 Priority (2-3 days)
$35 Express (order needs to be placed by 11am PST)
International
(coming soon)
$15 Regular Shipping (no tracking)
$30 Priority (5-8 days)
$45 Express (4-5 days)
(orders needs to be placed by 11 am PST)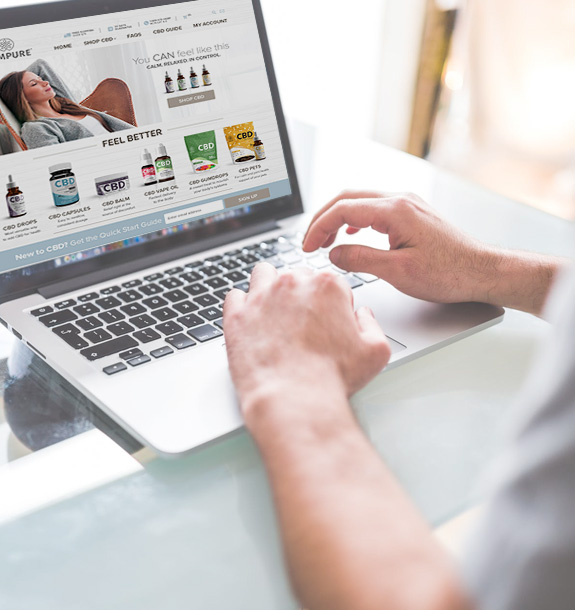 30 DAY GUARANTEE
All unopened Hempure products ordered online may be returned within 30 days of receiving the shipment. We will issue a refund promptly upon receiving unopened, returned products.
Please get in touch with us via the contact form.
If you have purchased Hempure products at a retail outlet, please return it at the place of purchase. Please keep in mind, every retailer has its own return policies.

WARRANTY & RETURNS
We will make sure you are 100% satisfied with your Hempure products. If we make an error with your order, we will correct it right away. If the shipping courier damages your shipment, please file a claim with the carrier and or contact your local office.
Then send us an email help@hempurecbd.com with the claim receipt, and we will then send you a replacement for anything that was damaged.

RETURNS PROCEDURE
if you need to return an item, follow these instructions:
Email us at help@hempurecbd.com
Returns are approved by our Customer Service Team.
Note – Returns received without approval will not be issued a refund or credit.