Can You Vape CBD Hemp oil?
Sabina King on Jun 20th 2019
SHORT ANSWER: Yes, vaping CBD is one of the best and easiest ways of incorporating CBD into your life. While it may be popular, it can be daunting for the beginner or someone who is inexperienced in the world of CBD and vaping.
Vaping offers one of the quickest ways of absorbing and feeling the effects of CBD. While edibles and regular CBD oil can take up to an hour to produce benefits, vaping CBD oil can produce benefits within 4-8 seconds. Vaping CBD also has near 100% absorption.
When inhaled, CBD enters into the bloodstream right away and makes the quickest exchange over the blood-brain barrier to reach the receptors within the endocannabinoid system and the brain. With other methods of consumption, CBD must first pass through the gut and liver, slowing down the onset of effects.
Can You Vape CBD Oil?
You cannot Vape standard CBD Oil designed to be taken sublingually under the tongue. You can vape CBD Vape Oil that is specifically designed to be vaped in a standard vaporizer. CBD Vape Oil is mixed with a solution of MCT oil and natural flavorings for a satisfying vape experience.
If you already own a vaporizer, you can add CBD vape oil to your favorite e-liquid or use CBD vape oil on its own. Many people like to alternate between a mixture and just CBD or e-liquid, depending on their mood or reason for vaping. It is recommended to use a smaller, vape pen for CBD.
Vaping CBD can be the perfect way to unwind after a long day.
Isn't Vaping Harmful?
When you use a vaporizer, no combustion of plant matter occurs resulting in less inhalation of dangerous chemicals. For example, when smoking tobacco, the combustion of plant matter creates smoke that contains over 7,000 chemicals. When vaping an e-liquid or CBD vape oil, the only things that get inhaled are the ingredients present in the e-liquid or vape oil.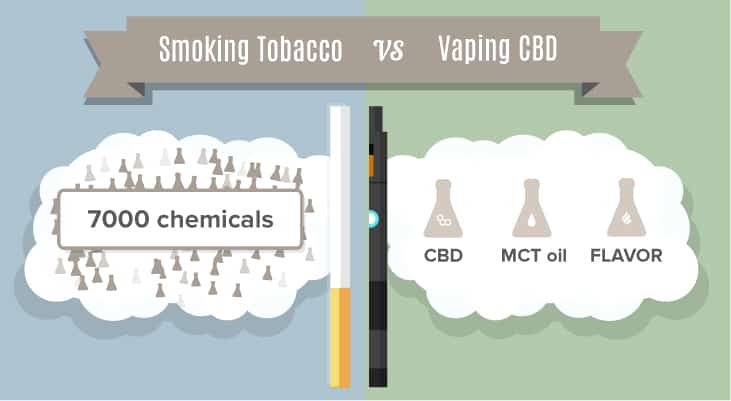 Vaping CBD holds many health benefits. CBD promotes healthy and restful sleep, enhances focus, and encourages a stable and strong immune system. You can also expect to experience better focus and mood when vaping CBD. To find out about all of the benefits of CBD, read Chapter 5 of our CBD Textbook.
How To Vape CBD Oil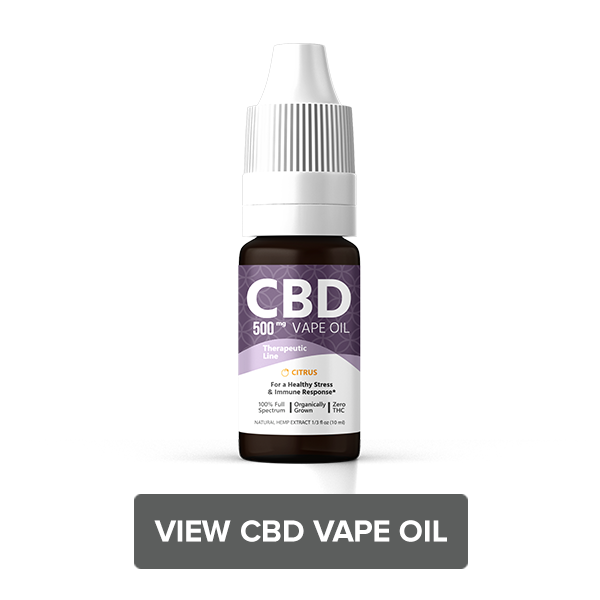 Wondering how to vape CBD oil? It is a simple process whether you are an experienced
vaping veteran or just getting started. You can fill your vaporizer with CBD oil or mix CBD oil with your favorite e-liquid to get going. There are no special things to consider when vaping CBD oil. Use it like you would any e-liquid.
Will Vape Oil Get You High?
No, even the most potent CBD vape oil will not produce a high. CBD comes from cannabis, but it is not the compoundin cannabis responsible for producing psychoactive effects. THC is the compound responsible for producing the "high" commonly associated with cannabis. CBD can still promote a positive state of mental health, but it will not leave you feeling sluggish, confused, or what many refer to as "high."
What About Mixing CBD With Nicotine?
If you're already vaping with nicotine, you can mix CBD in with your current e-liquid. This combination allows for you to feel both the calming effects of CBD and the stimulating effects of nicotine. If you don't currently use nicotine, there is no need to start.

Can I mix CBD oil with vape juice?
Just like you can mix CBD with nicotine vape juice, you can mix it with non-nicotine with it too. However, you'll always want to read the ingredients beforehand. Never use any type of synthetic CBD for any kind of consumption, including vaping. The best option is to buy CBD vape juice and use it on its own, but it is possible to mix it with another vape e-liquid.
How To Pick A Vaporizer
There are many different types of vaporizers available that will allow you to vape CBD. You can opt for something simple like a CBD vape pen. These are cylindrical vaporizers that look like a regular pen that feature a button to activate the vape and a fill tank that allows you to add e-liquid or CBD oil. They are perfect for vaping CBD because they do not produce an enormous amount of heat. Another popular choice for CBD is the portable Suorin Air. This vaporizer does not get too hot and can fit in a pocket. Smaller than a credit card, you can carry it anywhere.
If you have a box mod vaporizer, be careful vaping CBD based in MCT oil. Box mods create too much heat for vaping CBD in MCT oil.
Concluding Thoughts: Can You Vape CBD?
Yes, you can vape CBD. Because it does not pass through the liver or gut, vaping is one of the quickest ways of absorbing CBD and experiencing its wonderful benefits. It can help support your mood and cognitive performance and encourage better sleep. You can add it into your favorite e-liquid or vape it on its own.