Can you ship CBD?
Sabina King on Jun 22nd 2019
If you're a novice to the world of CBD, you may rightly have many questions. How is CBD made? What can it do for you? What product can you choose? And once you've done all your research, your final obstacle will be sourcing it. The best practices for buying CBD are finding a brand that sources organically grown hemp, conducts third party lab tests on their products and has a variety of strengths and flavors. It can be hard to find all of this information in a retail setting, which is why many consumers choose to buy their CBD online. However, this raises another question: is it legal to ship CBD? In the past, postage services have come down hard on shipping cannabis goods, but the USPS (United States Postal Service) recently updated their guidelines on shipping specifically hemp-derived products. Here's everything you need to know.
Two updates from the USPS
Back in March, the USPS issued internal guidelines on shipping CBD, and this month, they published their guidelines for the public to know what is and isn't legally mailable. The two differ in some ways, but both share a common cause: the 2018 Farm Bill, which legalized hemp and hemp-derived products at the federal level. The public update in June is arguably more important, but let's delve into both.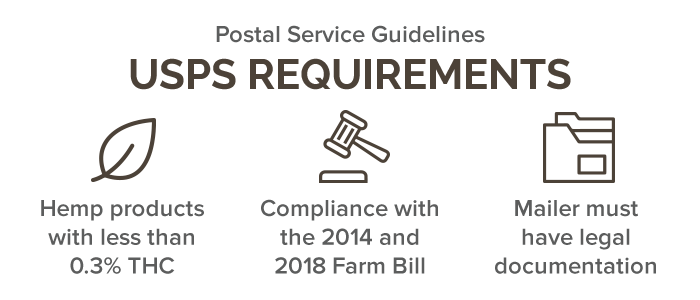 First update from the USPS in March
A self-certification statement is required to ship CBD
A statement must be printed on the mailer's letterhead, subject to False Statements Act 18 U.S. Code § 1001, with the following text:
"I certify that all information contained in this letter and supporting documents are accurate, truthful, and complete. I understand that anyone who furnishes false or misleading information or omits information relating to this certification may be subject to criminal and/or civil penalties, including fines and imprisonment."
The hemp producer's license is required to ship CBD
The hemp producer refers to the farmer growing the hemp. All farmers growing industrial hemp (which most CBD is made from) are licensed by their state's Department of Agriculture. The USPS stated that this license needs to be provided with any shipments. However, the company manufacturing CBD is unlikely to be the farm owner. This is why the USPS stated that the hemp producer would need to submit proof that the CBD company has their permission to market products using their hemp.
A CBD product with more than 0.3% THC cannot be shipped
Legally, hemp is defined as any cannabis plant that has less than 0.3% THC. In comparison, marijuana plants contain anywhere between 4-20% THC. When shipping a CBD product, the sender must provide third party lab tests that confirm that the final CBD product does not contain more than 0.3% THC. This means, you almost certainly cannot ship marijuana-derived CBD.
Second update from the USPS in June
If the set of guidelines above sounds exhausting, don't fret just yet. The most recent update was significantly more relaxed. Here's what the content is:
Only hemp and hemp products permitted
They state from the outset that any products with less than 0.3% THC are allowed to be mailed. Documentation for this is not required.
The mailer follows the law
The entity shipping the product has to be complying with all federal, state and local laws in accordance with the Farm Bill of 2014 and 2018.
The mailer must have documentation (but does not need to provide it)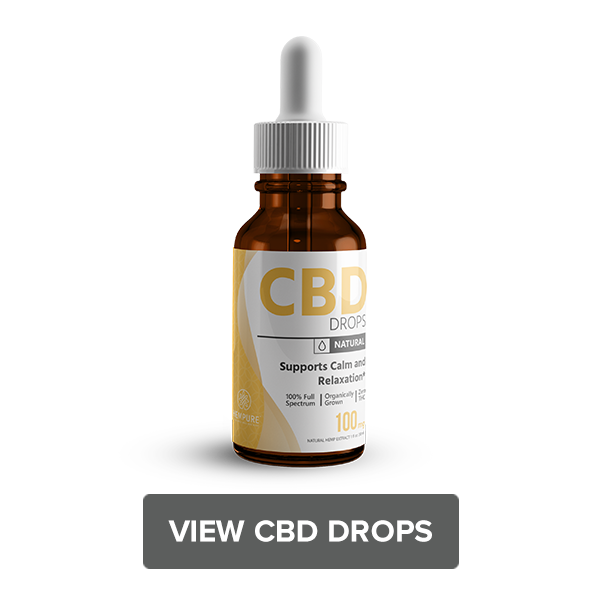 Mailers are responsible for their own legal paperwork, which includes 'laboratory test results, licenses, or compliance reports for no less than 2 years after the date of mailing.' They just need to have these on hand, and are not required to send it in with the shipment, as opposed to the guidelines in the previous update. This means that the USPS can request documentation from the mailer at any time up to 2 years if they have doubts about the legality of the shipment. Farmers and business owners would be wise to make the recording of all legal material a standard practice and part of company policy.
These guidelines happen to be more relaxed than the recommended ones suggested by the US Hemp Roundtable, a hemp industry advocacy group, which sounded more similar to the internal guidelines from the USPS in March. This is a hugely positive step for the hemp industry. One can't say yet if this means your CBD or hemp shipment will definitely not be seized and delayed during transit, but it just got a lot more unlikely. The USPS said that the new guidelines were a result of "numerous inquiries from commercial entities and individuals wishing to use the mail to transport cannabidiol (CBD) oil and various other products derived from the cannabis plant" since the passage of the 2018 Farm Bill.
The USPS also said that they will further clarify what exactly the mailability of hemp products is once the US Department of Agriculture issues more guidelines on hemp. One can expect policies for shipping CBD to be more relaxed in the future.
Do private companies ship CBD?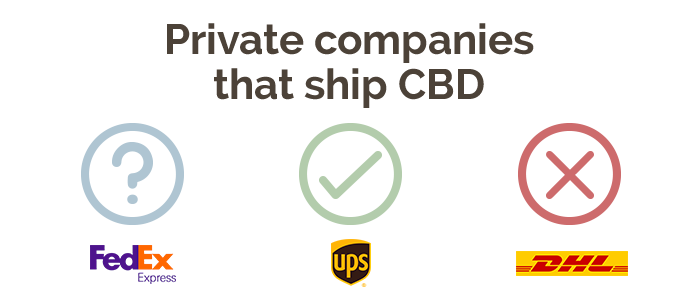 Private shipping companies like FedEx, UPS and DHL all have varying rules to specify where they stand on CBD. Most importantly, all 3 of them categorically state in their terms of service that they reserve the right to open a package at their discretion without a warrant. The Supreme Court has also ruled in the past that giving your property to a third party removes 'any reasonable expectation of privacy'. In contrast, the USPS is a government body that must function under the Fourth Amendment. This is why they require a warrant for search and seizure of parcels.
Shipping CBD through FedEx
FedEx has been known to accept some CBD shipments, but clearly listed in their list of prohibited items is the following:
"Marijuana… including marijuana intended for recreational or medicinal use and cannabidiol ("CBD"); any product that contains any amount of tetrahydrocannabinols ("THC")… Hemp plants, hemp leaves, hemp oil, hemp seed oil and CBD derived from hemp."
Shipping CBD through UPS
UPS will ship CBD products, provided that the sender must possess documentation on the manufacturing process.
Shipping CBD through DHL
DHL does not accept CBD.
Mailing cannabis in the US: History
Mailing any marijuana products has always been illegal. In a few cases where the product in question was hemp-derived, they were confiscated too. Those caught trying to ship marijuana could be made to pay a hefty fine: up to $250,000! USPS inspectors are actually important components of the war on controlled substances. They play a role in recognizing illicit substances that are trafficked through the mail and identifying the traffickers that send them.
In a statement to Leafly a few years ago, representatives stated,
"The U.S. Postal Inspection Service is committed to eradicating illegal drugs and their proceeds from the U.S. Mail. We pursue traffickers of all forms of illegal narcotics—including marijuana, which remains illegal under the federal Controlled Substances Act and is therefore unmailable. Our prohibited narcotics program focuses on the disruption of organized narcotics-trafficking operations, to help protect employees and customers from the violence related to drug trafficking, and to inhibit the spread of illegal or unmailable substances into neighborhoods across America."
What about states that have legalized recreational and medicinal cannabis use? That is of no consequence to the USPS. If the product contains marijuana, it is a federal crime to ship it through the mail. The USPS is a law enforcement agency – one of the oldest in the US – and is heavily protected by legislation. That makes postal inspectors federal agents. They have the authority to arrest and seize cash related to criminal activity. These laws remain unchanged if the product being moved is marijuana.
Final thoughts on shipping CBD
The USPS guidelines are a breath of fresh air for the CBD and hemp industry and their advocates that relentlessly demand clarity in legislation. With this news, and news that the FDA will soon issue regulations on hemp, there seem to be good times ahead for CBD, health and wellness.